Changes and New Adventures
Many of our repeat & recent guests knew of our impending move to Canada for Russ' new long-term project, and I am very relieved to announce that everything went quite smoothly getting up here! After several months in temporary accommodation on Vancouver Island  whilst we completed the build, we're almost settled in our float home. Our first months were OH SO COLD in comparison to our home in Grenada – very different from our lovely home on Bathway Beach!
We'll still be handling all the enquiries, website and bookings ourselves, and we would like to introduce everyone to our new Property Managers, friends Ian and Wendy – and their sweet, fluffy dog Bumble – who are yachties who have now lived on the island for a few years, and know it well.
Introducing our Property Managers
Ian, Wendy , and Bumble left Brixham, Devon, England one Sunday morning in 2013 to go sailing around the world. Check out a video of their departure with ARC.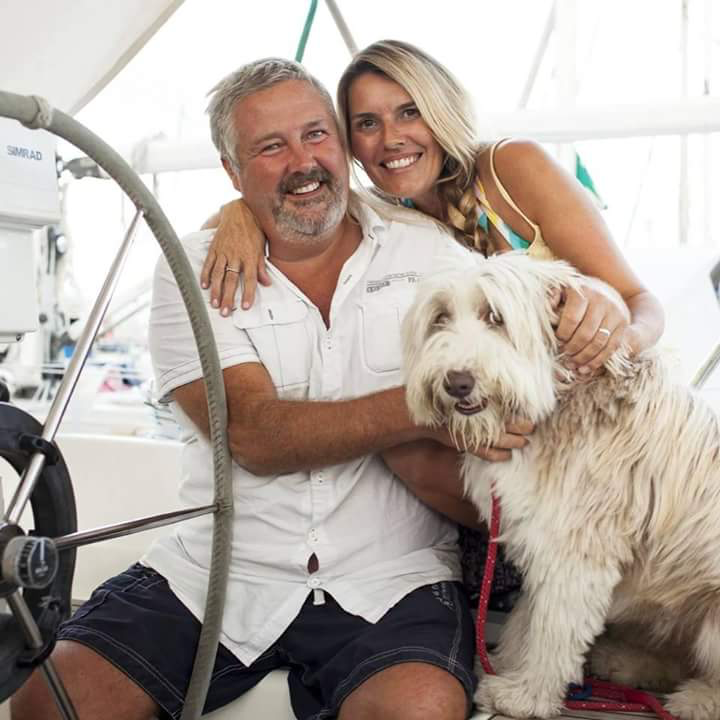 After sailing down through France, Spain, and the Canary Islands they left from Las Palmas and after 3 weeks at sea arrived in St Lucia.  Spending months cruising and enjoying the Caribbean Islands they sailed south and found and fell in love with Grenada, the unspoilt jewel in the Caribbean.
Ian always says that Grenada is the "Velcro Island" as once you arrived you never want to leave. It sticks to you forever. "It's the people of Grenada that make this place special," he says,  'Big hearts, big smiles and it always feel safe!"
After spending time working in the south of the Island they fell in love with the natural beauty and relaxing atmosphere of the North of Grenada, and have now made it their home. They will be living in our villa and caring for the guests with the support of our existing team, will be taking care of guests and property management on-site.
Of course Bumble is enjoying their walks along Bathway Beach, and Ian and Wendy told us that they are relishing living at Moonfish, working with our existing team and meeting the guests. They shared a chat with a recent guest – a busy American Exec  – who told them that he spent his whole life rushing around and could never seem to keep still, even on vacation. He found his stay at Moonfish was the first time he had just been "happy sitting and relaxing with no pressure to do something.  I could just sit and enjoy the view and sounds forever. I don't want to go home," he said
We have already received notes from several guests who were very happy with their stay, with specific comments about the support they received from our charming new Property Managers – so please join us in welcoming Ian, Wendy (and Bumble, too)! to Moonfish Villas!  We are very much looking forward to learning of their adventures in the St Patricks area as they try out our favourite restaurants and attractions.
Seeing photos shared by Ian and Wendy  are making us miss Grenada even more, and so we are remembering a recent arrival in Grenada. See Getting to Grenada  and Packing Tips for help planning your next holiday!