We enjoy a very special holiday season each year, each one seems better than the last!
The Spice Isle is in it's element, as we bake and prepare treats for the holiday season, sharing with neighbours and friends.  Nutmeg, mace, cloves and cinnamon are usually freshly grated or ground as you cook.  Instead of scented candles or potpourri which are put out to enjoy for the holiday season in Europe or North America (as we are accustomed to), they are rich and clean and earthy when fresh – Pure Grenada! It seems odd to us when some Grenadian friends have told us in the past that the smell of paint reminds them of Christmas, but it makes sense as it is traditional that many people will paint in preparation of visiting family!
You won't see a great number of homes decorated with Christmas lights in Grenada, but it makes those few stand out even more.
There may be the few people enjoying a 'sea bath' up the beach early in the morning, and some families may come down for a swim, but the beach generally remains completely deserted for most of the day.  It is a particularely quiet time.  Boxing day will see more families come down for a picnic, but Christmas is generally a time for visiting family on the island.  In the lead up to the big day, we have enjoyed hearing the faint sounds of the gospel singers coming down to practice at the ampitheatre cut into the hill at the nature centre, well worth a walk down to enjoy up close!
A morning swim on Christmas Day is definitely tradition here at Moonfish!
Once the turkey is in the oven and the table is laid, we always make a plan to take a dip in the sea at Bathway – or even go down to nearby Levera for a more exhilarating swim, depending on time and waves.   Often after lunch you can find us enjoying a splash in the pool.
We have also been thrilled to be invited out for Christmas morning sails, enjoying nibbles and drinks on board a sleek yacht.  Nothing beats a decadent start to the day on a yacht with a swim and some snorkelling, followed by a later lunch!  Exhilarating and oh, so different!
*****
Please note, if you would enjoy a 'split holiday', spending part on a yacht and part here at Moonfish Villas, we are happy to recommend Horizon Yachts Grenada!
*****
 Since then we usually spend the day relaxing with various friends – our Grenadian Family of expats – at a potluck lunch, as we did last year. Other than books we don't bother with presents (who needs more 'stuff'!) when celebrating Christmas in Grenada, and Christmas crackers don't feature much, as they are rare on the island.  However, there is an abundance of dried local fruit and of course local rum to challenge each other with our own special Christmas Puddings… there is also a serious competition for best Brandy Butter each year!
Games and laughter follow lunch, and by sunset we all troupe up the beach in groups and in pairs, often enjoying a drink as we relish the events and trading jibes over the competing desserts!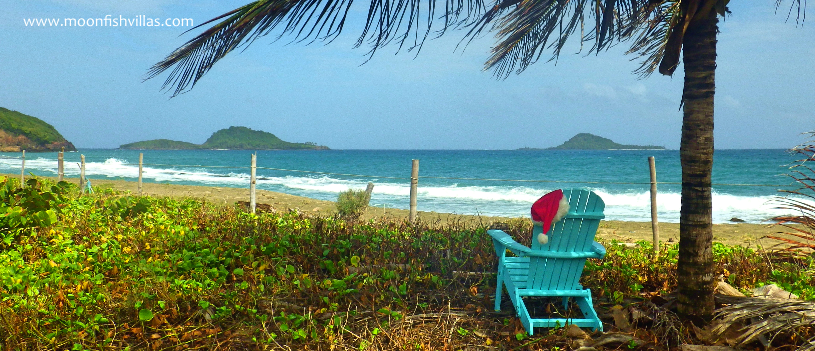 Christmas Carollers
Last year we did have a very special experience on Bathway Beach which I must share: We were relaxing on the balcony after dinner and we began to hear quiet singing… slowly the song grew and swelled with more voices – I shouted for everyone to come outside and ran to the driveway- the Christmas Carol Singers were here!
We opened the gate wide and welcomed them in, as our guests gathered around.   This group of wonderful ladies and gentlemen had arrived on foot, and were accompanied only by a tambourine, and some held shakers made of sand and pebbles in old plastic soda bottles. We felt privileged that they would come to share such joy and talent with us. I ran back in for my camera before it was over, but the few photos I took were not great, as we don't have bright lights in the driveway in deference to the sea turtles that nest on the beach , but you can get a good idea from the front row of singers I did manage to snap! I will update this blog later with a video – the singing was lovely, just zero light for the images whilst filming with my little point and shoot camera.  Watch this space!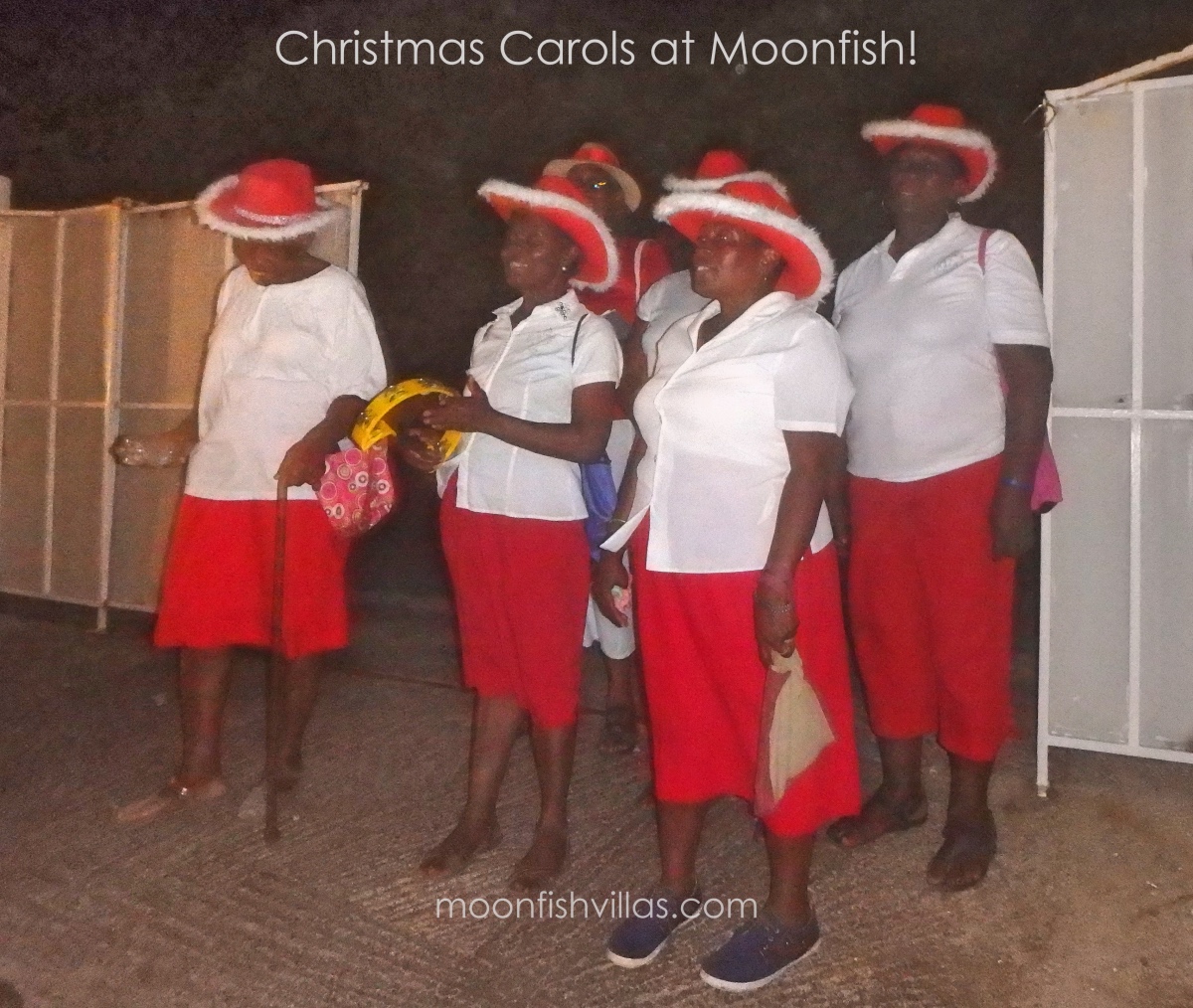 We had enjoyed this once before at a friends' during our first holiday season, about a week before Christmas, but this was the first time the Carol Singers had come to Bathway Beach. I made sure before leaving the house to grab some cash, so we could tip them. We hope that our great enthusiasm will encourage them to visit again each year!
PS – I've checked the date of my photos and the carollers visited on Monday 19th December, to be precise.  We've seen them previous years a couple of weeks early at friends' homes.  we suggest you always keep an ear out, or you may even see them walking along the road near Sauteurs in their red-and-white outfits!
Your Christmas at Moonfish Grenada
Of course there is a full kitchen in each villa at Moonfish Grenada, but if you don't want to cook Christmas dinner there are other options on the island!
Our first year at Moonfish Grenada we were honoured to be invited to join a large extended family to celebrate at Petite Anse. Our guests last year all booked tables at nearby Petite Anse, just the other side of Sauteurs, where they enjoyed a traditional Christmas Holiday lunch. Afterwards, I know some of them had a dip in the sea, down at the beach below Petite Anse.  Such a treat compared to Christmas activities in the cold north!
This year, we have know one family staying with us will be trying out a Vegetarian Christmas lunch at Mango Bay, on the East Coast, as reviewed here at the Happy Cow! (UPDATE – unfortunately Mango Bay is currently closed but there are other options on the island!)
Merry Christmas and Happy Holidays!
This will be our first Christmas off the Island in many, many years, but we know our lovely property managers are planning some special treats for their first year on the property… and we are quite jealous!